Our Approach
Navigating the demands of a loved one's care is hard.
We ensure you don't have to figure everything out alone.
How Cariloop Works
Cariloop's solution is an employer-sponsored benefit to help you navigate the demands of care for anyone you consider family.
If your employer offers this benefit, you simply open a case on your employer landing page. We pair you with an experienced Care Coach who supports you every step of the way.
The Process:
Connect with your licensed/certified Care Coach
Access your case and documents on our Care Portal
Invite anyone you consider family to access the portal and communication with your Care Coach
Navigate the next steps for your loved one with your Care Coach
The Journey of a Caregiver with Cariloop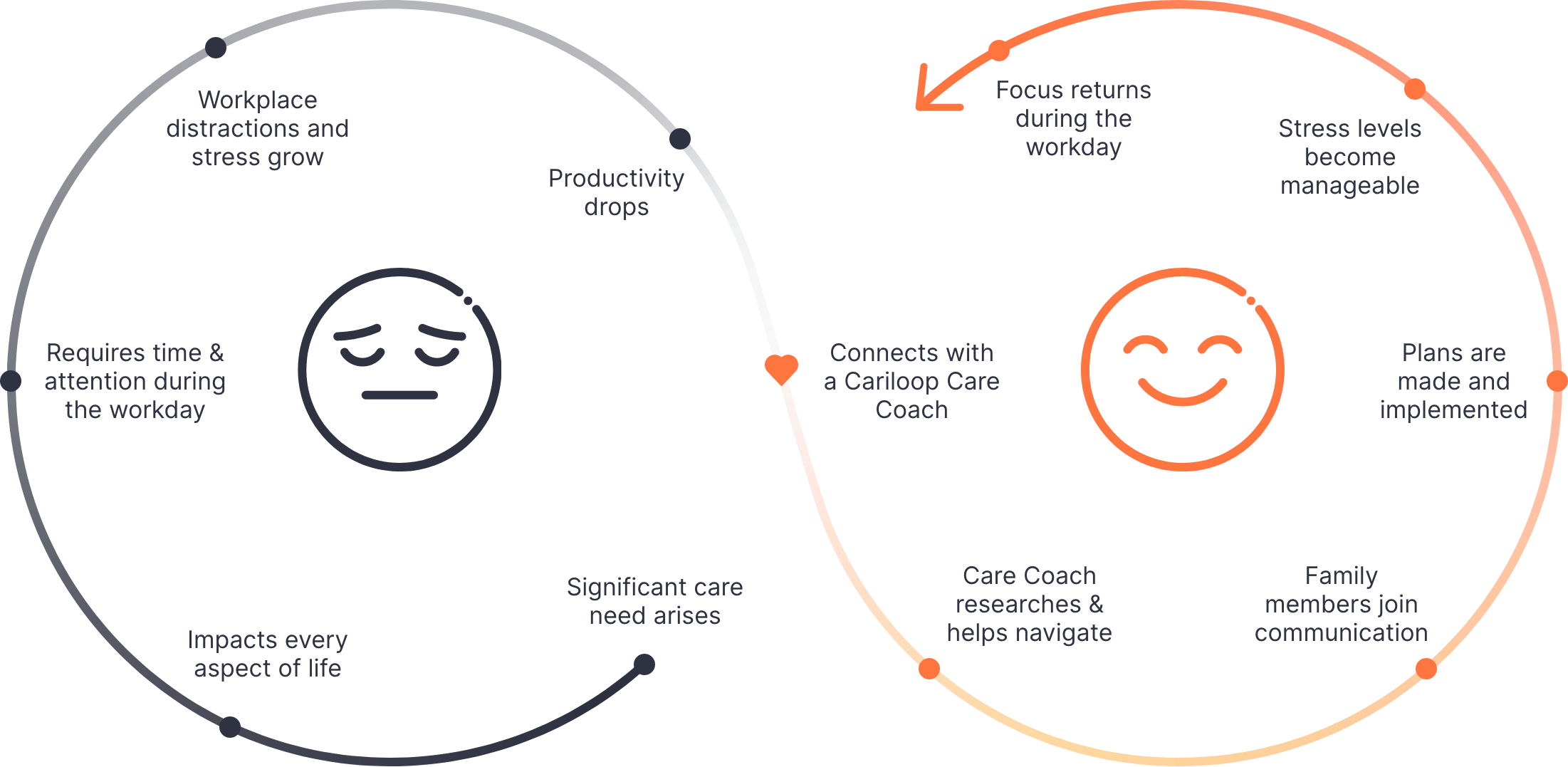 See How it Works
Many companies boast a strong culture, but one of the ways we can prove how fundamentally different we are is through showcasing Cariloop. Every time we discuss that this is a free benefit for employees and their loved ones, it's a light bulb moment for the candidate. It's the exact moment when you see them think of themselves not as a prospect but as a future 5 employee.
Chief Culture Officer
5
The mental health of our staff has been front and center, especially over the last couple years with the pandemic. Cariloop provides support not only with caregiving responsibilities, but also around mental health. We saw during the pandemic that staff really struggled whether it was with a child or adult in their caregiving role. Having Care Coaches who can also address mental health, backup care, special needs and family support has been invaluable.
Director of Health and Welfare Benefits
American Cancer Society
Our focus is to holistically improve the lives of our associates, and Cariloop is an integral part of this mission. While not a traditional mental health benefit, we see how much Cariloop is supporting the mental health of our workforce. The Care Coaches are quick to check in with the individual associates and ask how they are doing personally, in addition to supporting many mental health and additional needs of our associates' loved ones and family members. They truly support the whole person, not just the specific need or case – and that is invaluable.
Benefits Navigator Program Manager
Benefitfocus
Remember that every single one of us will experience a caregiving situation at some point in our lives. We may or may not be primary caregivers currently and may not realize that we could be faced with the situation of giving care. That is because there is no "standard" definition of how we can help others. Taking care of health situations, financial situations, emotional support or sensitive family dynamics can all add stress and anxiety to employees, making them feel overwhelmed – the great news is that Cariloop can help with it all.
Benefits Manager and Associate Vice President
Carollo Engineers
Here at Brinker we believe life is short, work happy. We also believe all of our Team Members should have the opportunity to live their best life, and through our Wellbeing Program we want to provide the resources to make that a reality. Supporting caregivers is a critical part of our tool kit. By partnering with Cariloop we are confident that our Team Members have access to a comprehensive caregiving arsenal eliminating the feeling that they have to tackle caregiving alone. Cariloop provides them the ability to focus a little less on the stress caregiving can bring, and the freedom to focus a little more on living their best life.
Wellbeing Program Manager
Brinker International
As much as possible, we strive to care for the whole employee, through health club reimbursements, wellness credits, tuition reimbursement, robust career development, identity theft protection, etc. We continually look for ways to enhance our employment experience. To that end, we recognize the unique burden of the 'sandwich' generation and understand how difficult it is for employees to be productive and attentive at work while also dealing with caregiving issues. Cariloop enables us to incorporate an innovative and effective tool to help employees navigate this sometimes confusing and very emotional time in their lives.
Benefits Administrator
Range Resources
Cariloop is an amazing program which provides our campus a much needed benefit that had been missing. Their dedicated team of professionals has a unique ability to connect with our employees to provide them with the information they need for their caregiving journey (often for the first time). The phrase we hear most often from our employees is "a sense of relief". Our employees know they don't have to go through this journey alone and feel better equipped to make important decisions for their loved ones.
Director of Benefits, Compensation and Records
Southern Methodist University
Having a resource like Cariloop is a game-changer and not only helps employees be more productive, but creates loyalty as well. It's a wonderful thing as a benefits professional to be able to say, 'Yes, I have a resource that can help you with this,' during a difficult time for an employee.
Director of Employee Benefits
VMLY&R